Jobs for Veterans: Hiring Our Military Heroes
At Quality Carriers, we consider Veterans to be the foundation on which our society is built. Since its start in 1913, our company has grown from a 1-truck operation in Pennsylvania to having over 2800 trucks across 100 terminals in the United States and Canada. Understanding your Military service takes you to many different parts of the country, our network of terminals provide an opportunity throughout most of the United States. While we are extremely proud of our success, we are also aware that none of it would have been possible without the brave men and women of the United States Military protecting our rights, freedoms and interests both at home and abroad.
To ensure that we give back to those that have served, Quality Carriers is committed to providing professional driving, mechanic and logistic opportunities to members of the military that will be or have transitioned out of the armed forces. As one of the leading Veteran ready trucking companies, our Troops To Tankers program focuses on the recruitment of service members as they transition from Military service to start focusing on a civilian career path. We value the work ethic of service men and women, and we would love for you to be a part of our team.
Goal of400+ veteranson-boarding this year

16%more veterans on-boarded last year

A+benefits for military spouses
Documentation Needed for Transitioning Veterans:
►

Skill Test Waiver (Commander Certification Letter)

►

Memorandum for Record (MFR) stating the type of equipment driven and how long

►

DD 214 - Certificate of Release or Discharge from Active Duty
Requirements:
►

We will consider all military transportation experience involving a Military Operators License (e.g. 88M, 92W, 92F, + more)
Exceptions:
►

Once a civilian CDL "A" is issued, Quality Carriers will consider your military driving experience in lieu of meeting the minimum requirements listed on the application. Military experience is determined by experience listed on the Skill Test Waiver form. (Download Skill Test Waiver form here.)
Thank You for your Service!
Quality Carriers & You
At Quality Carriers, we understand that those who choose to drive for us do so because of one overriding factor: Opportunity. We provide our drivers with ample opportunity to do what they know and love best, and that is drive. Due to the nature of our business, and the quality of our customers, our company drivers discover a wealth of opportunity to do what they love. A few key advantages of Quality Carriers includes:
A significant investment in driver safety
Develop a career that suits you
Rewards for providing superior performance and service
An opportunity for work / life balance
The largest and most stable customer base in the industry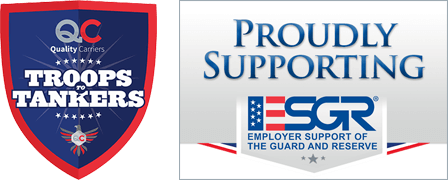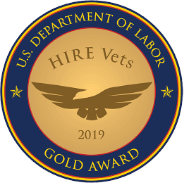 Quality Carriers Driver Referral Program:
We're always looking for quality drivers to join the team. If you're currently employed at Quality Carriers and know someone who would be a great fit, please refer them and become eligible for referral payment.
Click here to learn how it works